Posted April 7, 2020
In August 2019, PooranLaw began a free legal services program for residents of Windsor and Essex County.  Our free (pro bono) services are built on The I Decide Project, previously offered through Legal Assistance of Windsor.  Our goal is to deliver rights-based education and services to community members with intellectual disabilities, in order to promote self-directed decisions and planning.
On April 1, 2020, PooranLaw expanded our free program to residents of the Greater Toronto Area ("GTA").  This expansion is sponsored by People First of Ontario, the provincial voice for people who have been labeled with an intellectual disability.  People First of Ontario is dedicated to equality and human rights, including the right to decide.
PooranLaw believes in the right of people with intellectual disabilities to make self-directed decisions and plan their own futures.  To that end, we are very excited to expand our pro bono (free) legal services to the GTA!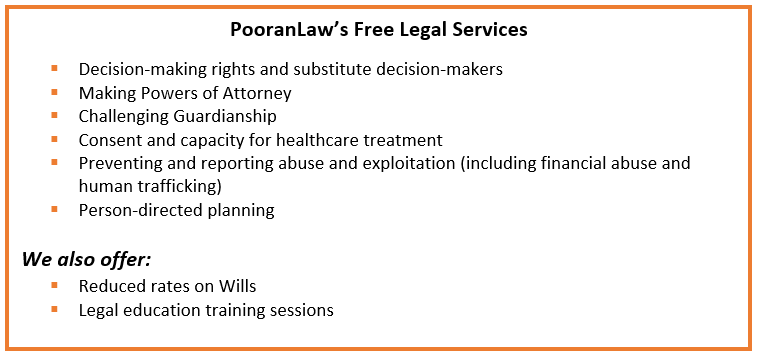 Who is Eligible for Free Legal Services?
Residents of Windsor-Essex, or the GTA who have:
Lower incomes (would qualify for legal aid services), and
An intellectual disability and/or acquired brain injury.
The initial phase of the GTA free legal services program will run from April 1, 2020 to March 31, 2021.   We hope that it will continue beyond Year 1.
---
Through the Whole Life Planning Centre, PooranLaw and our network of legal, financial planning, tax and accounting professionals will assist you in planning for the future of your loved one using a whole life approach. We look at your future plan from all sides – estate planning (including wills and trusts), tax planning, ODSP and social assistance, RDSP and financial advice, housing, engaging support workers, microboards and independent facilitation, and more.
Contact us by phone at 416-860-7572 or by email at info@pooranlaw.com.